Have you ever experienced these problems?
You couldn't find some place, like public toilet


You want to buy something but don't know where to find it

During traveling,

you faced problems and looked for someone who can speak your language

You lost something and wanted to ask people nearby
"Ask people Around you," that's what this app is designed to help you to do!

App Description
This application is designed for users to broadcast their messages to the public and receive messages from other users nearby . The main design is to allow users to chat in the public anonymously under aliases.
Note
You can receive message from people within a range you specify
You can set alias without the need to log in
You can set GPS; mock GPS is indicated by *
When you post a message, unless you turn on "Reveal Distance to Me," which is set OFF by default, receivers will not see distance or direction to you
Update (the new version waiting to be released)

Fixes the bug that some messages are delayed.

Profanity Filter (word censorship) and Report Button are added.

Image Attaching is removed to prevent legal issues.

To be added

Channel for private messaging
---
How to copy texts, block user, report

Long press a message, these menus will pop up.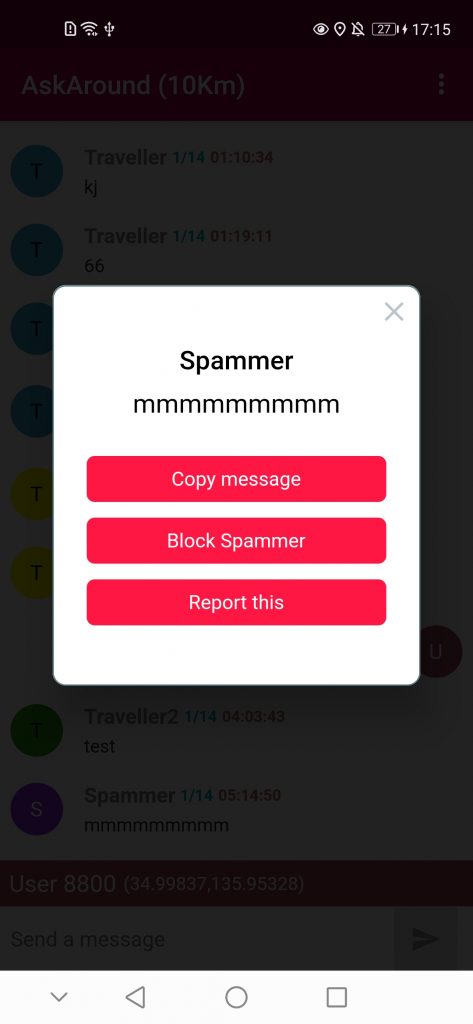 How to set Mock GPS
Why you need?: Suppose you want to visit some event but you want to know situation there. You can mock GPS to ask those who are in there.
---

วิธีใช้งาน
Set Range: ค่า Default ของแอพ ตั้งไว้เพื่อรับข้อความในรัศมี 100 กิโลเมตร 
Set Alias: ตั้งชื่อ และสีของ Avatar
Set Location: สามารถใช้ GPS จำลอง เพื่อไปตำแหน่งต่างๆได้โดยเซ็ตค่า Latitude, Longtitude
(ดูตัวอย่างด้านบน: 1.ใน Google Maps ให้กดค้าง ณ ตำแหน่งที่ต้องการ จะมีค่า GPS แสดงขึ้นมา 2.นำมาใส่ในแอพ ตรงส่วน Set Location)
More Setting: สามารถปิด Notification ได้
---
Previews