Are you transcribing a song? Then this is a tool to quickly write down letter notes. And you can play them back~
Announcement [2023-12-01]: MeloTex has been temporarily removed from the Play Store due to compatibility issues with the new version of Android. The programming libraries for playing MIDI (playing letter notes) and for file reading and writing need to be updated. We are actively working on replacing these libraries. We apologize for any inconvenience this may have caused.
Quick Note-taking of Musical Notes
With this app, you can quickly take letter notes of music and later replay them. Interface is designed to allow its user to quickly & easily change Key, Transpose, increase/decrease Octaves. Data can be read/write in a form of .txt file, allowing transferring/sharing at ease.
We got reported that Play Button produces no sound on some devices (+unable to access files) (both problems caused by storage access error). We have fixed it. Please wait for the next update on PlayStore.

Edit Tab
A-B: Musical notes as a letter
Up and Down: to increase (/) and decrease () octave
Blue Scroll: Change Key (also used to write letter Sharp (♯:#) with and Flat (♭:b)
Black Scroll: Change Text Size
Space and Enter: Only for ease of reading, doesn't affect playing
Play Tab
▶ Button: Play melodies (Kalimba-inspired interface), 1 Tab = 1 Note
T+ and T-: Transpose
Scrollbar and Menus below: For read/write file to app folder located at "Android/data/pp.flutter.melody/files"
Header Menu

Clear: Make the textbox empty
Unclear: Undo the above action
Play from the beginning: Move cursor to the beginning of the file
How to use: Come to this webpage
---
HOW TO USE

How melodies processed?

Melodic Texts to be processed only stores pitch information, not rhythm.
The app first looks for notes C, D, E, F, G, A, B. (must be Capital Letter)
It checks whether there is # or b after each note.
Then, it assign values for each note.
The app analyzes octave changes (

/

and ) over the whole textbox and memorize the octave for each note. Even if you don't play from the beginning, octave control should still work perfectly.
Other texts are ignored on playing.
So you may add lyrics with non-capitalized texts, it won't affect Playing
Quick Start
Click setting (… on the top right), and select "Sample Data," Sample letter notes will be loaded.
Click the blue button on the "Play" tab. You should hear the melody played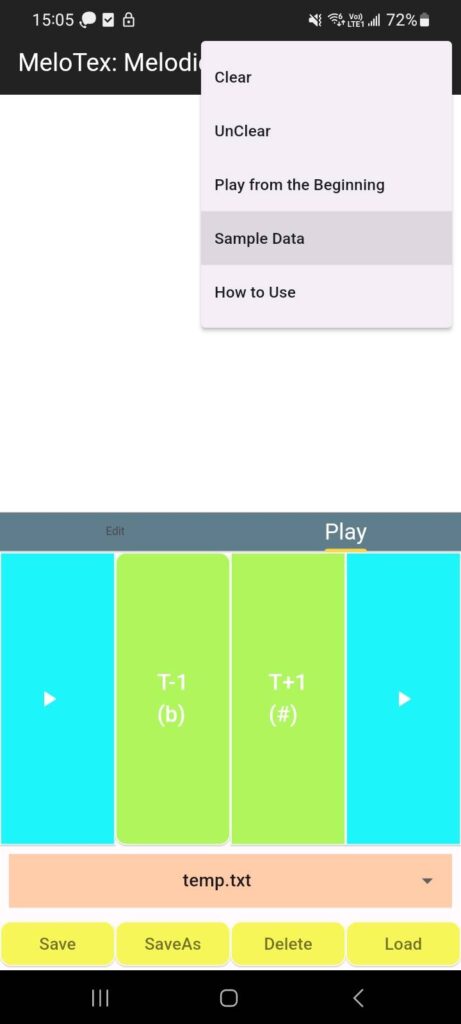 Example: Minuet in G major, BWV Anh. 114



Minuet in G major, BWV Anh. 114
/D GAB/CD GG
/E CB/C DEF#G GG
/CB/C DCBAB
/CBAGF#
GABGBA
/D GAB/CD GG
/E CB/C DEF#G GG
/CB/C DCBAB
/CBAGA
BAGF#G
[collapse]
Example: Scaling over Octaves

Scaling over Octaves
CDEFGAB/CBAGFEDCBAGFEDC
[collapse]
---
คู่มือภาษาไทย (HOW TO USE in Thai)
Interface จะมีสอง Tab หลักๆ คือ Edit และ Play
หน้า Edit ใช้สำหรับเขียน โดยปุ่มตัวอักษร ใช้สำหรับปรับคีย์เพลง
โน้ตจะถูกแทนด้วยอักษร C ถึง B
ชาร์ป และแพลต แทนด้วย # และ b
เครื่องหมาย / และ ใช้สำหรับการเปลี่ยนให้เป็นเสียงสูงขึ้นหรือเสียงต่ำลง โดยจะมีผลต่อเนื่องหลักเครื่องหมาย
ปุ่มอักษรขึ้นลง คือ ปุ่มเพิ่มคำสั่ง / และ
Enter และ Space ใช้เพื่อจัดข้อความให้อ่านง่ายขึ้น ไม่มีผลต่อการเล่น
Scroll สีดำ ใช้ปรับขนาดอักษร
Scroll สีฟ้า ใช้เปลี่ยนคีย์ โดยปุ่มขึ้นจะใช้ชาร์ป ปุ่มลงจะใช้แพลต
ตัวอย่างเช่น หากต้องการเปลี่ยนคีย์จาก C ไป Db จะต้องกดขึ้นสองครั้ง และลงหนึ่งครั้ง (C > C# > D > Db)
หน้า Play ใช้สำหรับเล่นเพลง
ปุ่มสีฟ้า จะทำการเล่นโน้ตทีละตัว ปุ่มออกแบบเพื่อการจับมือถือเหมือน Kalimba
ปุ่มสีเขียวใช้เพื่อเปลี่ยนคีร์
เมนูอื่นๆใช้เพื่อบันทึกไฟล์
---
Upcoming Features

Play sound while writing (can turn on/off)
More instruments
Database for sharing MeloTex (melodic texts)
More interface for inputting data (keyboard-like interface)
Support Thai Letter Notes (ด-ท)
** we would be glad to hear your idea for new features, please feel free to email us 🙂 **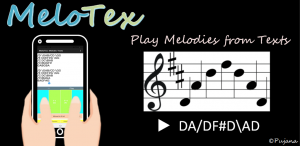 ---
VDOs
MeloTex (App Demo) : Minuet in G major, Bach
MeloTex (App Demo) : Simple C Chord + Transpose
MeloTex (App Demo) : Changing Octaves
MeloTex (App Demo) : Writing Canon in D as Melodic Texts
---
Problems & Feedback: Pujana[dot]P[at]gmail.com